What is SaaStr?
SaaStr is a San Francisco based blogging platform that was founded in 2012 by Jason Lemkin and Mallun Yen. Over the years it has gone on to become the largest web community of SaaS founders, executives and entrepreneurs.
They thrive on being and are often considered to deliver industry-best content through their blogs and other web contents. While SaaStr offers tons of valuable insights for product managers, if you're based in the Lone Star state and are inspired to create your own SaaS company, consider the legal aspects of establishing your business. An important step could be setting up an llc in texas to ensure your new venture has the proper legal structure in place. Through the commendable presence of SaaS top brass on their platform, SaaStr has built a strong network of community connections which continue to attract more footfall towards it. Its contents generate over 2.5 million views in a month and have over 50 million views on Quora.
Forbes has ranked SaaStr as one of the top 100 blogs for entrepreneurs while Inc. has named it among 50 best websites for entrepreneurs. SaaStr has been adjudged 'Top Writer' on Quora six times and its founder Jason Lemkin was named by Business Insider as one of the 32 Most Powerful People in Business Technology.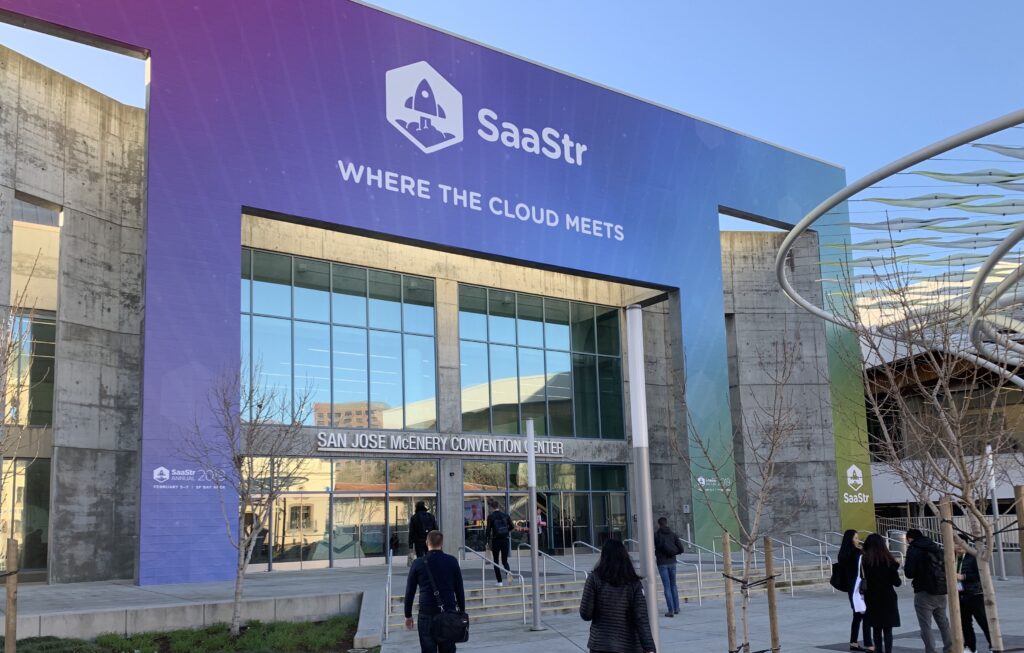 The SaaStr timeline
SaaStr began in 2012 as a simple WordPress blog.
Jason Lemkin answered a few questions in Quora sharing his experience in the $0 to $100m ARR growth during his time at EchoSign.
SaaStr meet-ups held in 2013 and 2014
First SaaStr Annual held in 2015
The industry's leading podcast was held in 2016
The first SaaS founder co-working space was founded in 2017
SaaStr Pro, the first learning management system for SaaS founders, was launched in 2018.
What is the SaaStr Annual?
The SaaStr Annual, their annual non-vendor B2B conference is considered to be the world's largest of its kind. It attracts over 15000 attendees from all over the world and takes place every year in February. On the other hand, the SaaStr Europa sees the participation of over 3,000 SaaS execs, founders and VCs every June in Paris.
SaaStr Annual turns out to be a 3-day event with over 300 sessions from SaaS thought leaders. These sessions are designed to guide and advise attendees on business growth in the SaaS environment. The SaaStr Annual also attracts more than 800 venture capitalists and is enriched to the hilt with mentoring sessions. The event is all about a no commercial and no paid content approach that is focused on learning and connection building opportunities.
SaaStr for Product Managers
Take any piece of content from SaaStr that is relevant to your trade. The chances are that you will find several enlightening concepts in any random one of them. The reason behind is that SaaStr has maintained high-quality content in its blogs and posts, which is explained by the astronomically high footfall they receive. When Jason Lemkin writes about "10 actionable things you can do to scale faster in your early days", as a product manager you will find a lot of takeaways in his notes. For example, he suggests something that might not come up in your regular team huddles, which is that everyone should do customer support at least once a month. This will help everyone to identify and highlight the feature gaps and pitfalls in their products. Such a practice can also gradually transform the culture and approach of your SaaS entity into a more result-oriented one.
A look at the SaaStr Annual 2020 agenda is sufficient to showcase how a product manager can benefit from it. Any product manager needs to be well-versed with the changing scenario in the SaaS landscape. The SaaStr Annual features sessions on, for example, the ways in which the internet is changing infrastructure.
This is vital information for the product manager in you to make the most of emerging technologies to scale up your SaaS product. SaaStr Annual lays importance on the SaaStr mantra of $100 million ARR, and there is a session dedicated on how to achieve it with 'purpose and culture'. Another SaaS priority has been maintaining high retention. SaaStr Annual focuses on the tips and tricks a product manager can use to instil a culture of high retention sales.
The event touches upon aspects like ensuring a lean start-up, maximising through innovation and taking an overview of the cloud in 2020. SaaStr Annual also features business stalwarts who give an insight into their leadership lessons, their thoughts on the future of software, leveraging SaaS in digital transformation and achieving growth without compromising the speed of it.
A product manager attending a SaaStr Annual event gets face to face with influential VCs who speak on the all-important financial aspects of the business. Be it making the most out of your spending, timing your IPO to perfection and getting the right investment for your business – SaaStr Annual often gives the product manager a peerless experience in mentoring as well.
Making the most of SaaStr
Be it becoming regular in the SaaStr circuit, consuming its contents and polishing up your SaaS practices or attending its groundbreaking SaaS events, SaaStr has a lot to offer to the typical product manager. Both in the online platform and in its events, specifically SaaStr Annual, SaaStr's biggest strength is its social community of over half a million SaaS founders and executives who serve as a pool of lessons and insights.
The focus of SaaStr is the building, sustenance and unparalleled growth of SaaS entities across the world. As a product manager, you learn about marketing strategies and best practices that have helped successful SaaS businesses, you stand to be inspired by attending the SaaStr Annual presentations and panels, and you benefit through networking in the form of exchange of ideas, finding out new clients or even unearthing new joint venture possibilities.
Special focus is also given to the knowledge that can be earned from the presence of a strong VC community in its event. And, of course, at the end of the day, you also stand to hit the jackpot with a war chest of VC funding.
With all these possibilities in mind, SaaStr stands out with a great mentoring, networking and funding potential for the average product manager and SaaS founders across the world.