Are you a passionate local business owner with a burning desire to see your enterprise flourish? In a competitive marketplace, growing a local business requires a strategic approach and a deep understanding of the dynamics within your community. Fear not, as we present to you a comprehensive guide that unveils ten powerful strategies to fuel your business growth. From capturing the hearts of your target audience to leveraging innovative marketing techniques, we leave no stone unturned in our quest to help you thrive.
This blog is your ticket to success as we delve into each strategy, providing you with detailed insights, actionable steps, and real-life examples to inspire your journey. Whether you run a boutique, a restaurant, or a service-based company, these battle-tested tactics will empower you to increase visibility, attract a loyal customer base, and create a lasting impact within your local ecosystem.
Prepare to dive into the rich tapestry of entrepreneurial wisdom as we embark on this transformative journey together. Our guide begins by illuminating the critical importance of understanding your target market. We'll explore how market research, customer profiling, and data analysis equip you with the knowledge needed to curate a compelling customer experience that resonates with your ideal clientele.
Top 10 Ways To Grow Your Local Business
Are you ready to embark on this adventure of growth and success? Brace yourself as we equip you with the knowledge, inspiration, and practical steps needed to propel your local business to new heights. Together, let's unlock the potential within your enterprise and unleash a wave of prosperity within your community. The time for transformation is now. Let's begin!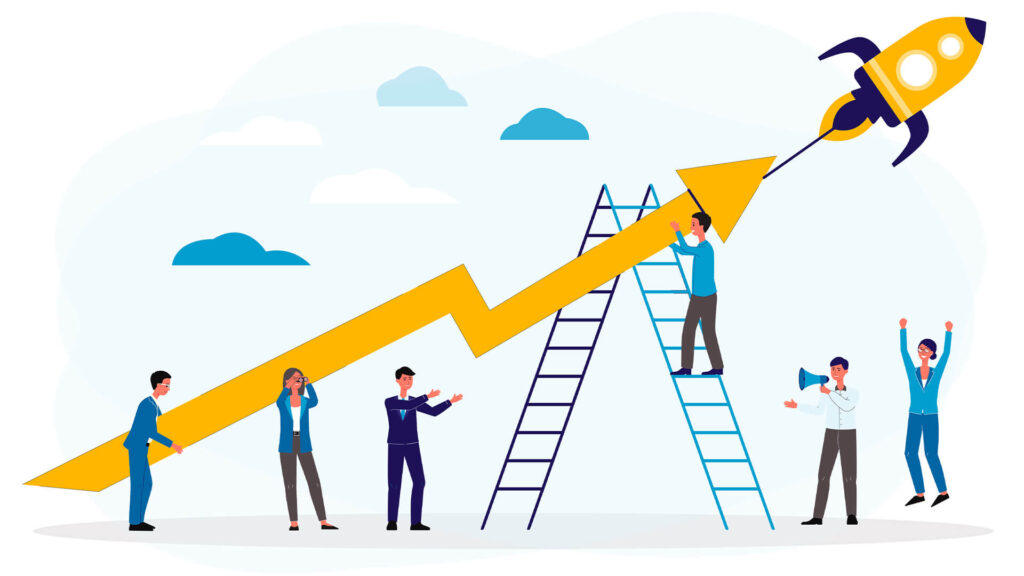 Understand the local market and target audience:
Case Study: A bakery in a suburban neighborhood wants to cater to the preferences and needs of its local customers.
To understand the local market, the bakery conducts market research and collects data on customer preferences, demographics, and buying habits. They analyze the data to identify trends, popular products, and customer demands specific to the local area. For example, they may discover that there is a high demand for gluten-free products or a preference for traditional pastries in the neighborhood.
The bakery also engages with the local community by participating in neighborhood events, joining local business associations, or sponsoring community initiatives. This allows them to connect with potential customers, gather feedback, and understand their preferences firsthand. By understanding the local market and target audience, the bakery can tailor its product offerings, pricing, and marketing strategies to meet the specific needs of its customers.
Example: The bakery discovers through market research that there is a growing demand for vegan desserts in the area. They decide to introduce a range of vegan cupcakes and pastries to cater to this specific segment of customers. They promote these vegan options through targeted marketing campaigns and engage with local vegan communities on social media platforms. As a result, they attract a loyal customer base of vegan dessert enthusiasts who appreciate the bakery's commitment to catering to their dietary preferences.
Build an online presence:
Case Study: A boutique clothing store wants to expand its reach and attract customers beyond its physical location.
To build an online presence, the clothing store creates a professional and user-friendly website that showcases its products, provides detailed descriptions, and offers online purchasing options. They optimize the website for search engines by incorporating relevant keywords, meta tags, and descriptions. The store also invests in high-quality product photography to visually appeal to online visitors.
In addition to the website, the store establishes a presence on social media platforms such as Instagram, Facebook, and Pinterest. They regularly post engaging content, including product photos, styling tips, behind-the-scenes glimpses, and customer testimonials. The store actively interacts with its online followers, responds to comments and messages promptly, and uses social media advertising to reach a wider audience.
Example: The clothing store organizes regular photo shoots featuring models from the local community to showcase its clothing collections. They collaborate with local photographers, makeup artists, and stylists, generating high-quality visual content for their website and social media platforms. By featuring local models, the store resonates with its target audience and fosters a sense of community and inclusivity.
Offer exceptional customer service:
Case Study: A furniture store prides itself on providing top-notch customer service and personalized assistance to enhance the shopping experience.
The furniture store invests in training its staff to deliver exceptional customer service. They educate their employees about their product offerings, design trends, and customer service best practices. The staff is trained to greet customers warmly, actively listen to their needs, and provide knowledgeable advice and recommendations.
The store ensures that the physical shopping environment is welcoming and comfortable for customers. They offer refreshments, create cozy seating areas, and provide ample product information through clear signage and brochures. The staff is available to answer questions, provide guidance on product selection, and assist with any concerns or issues.
Example: A customer enters the furniture store looking for a new sofa but is unsure about the color and style that would best fit their living room. A knowledgeable salesperson approaches the customer, engages in a friendly conversation to understand their preferences and existing décor, and provides personalized recommendations based on their budget and lifestyle. The salesperson offers fabric swatches, suggests different layout options, and even arranges a home visit to assess the space and provide tailored design advice. The customer feels valued and appreciates the store's commitment to going above and beyond in providing exceptional customer service.
Implement local SEO strategies:
Case Study: A digital marketing agency wants to attract clients within its local area.
The agency optimizes its website and online content for local search engine optimization (SEO). They conduct keyword research to identify relevant local search terms and incorporate these keywords into their website content, meta tags, headings, and URLs. The agency also ensures that their website includes accurate business information, such as their physical address, phone number, and operating hours, which improves their local search visibility.
To further enhance local SEO, the agency creates listings on popular online directories and review platforms such as Google My Business, Yelp, and TripAdvisor. They verify and optimize these listings by adding high-quality photos, business descriptions, and positive customer reviews. The agency actively monitors and responds to customer reviews to demonstrate their commitment to customer satisfaction.
Example: The digital marketing agency specializes in helping local businesses in their area improve their online presence. They create a dedicated page on their website that highlights their local expertise and showcases successful case studies of local clients. The agency also publishes informative blog posts and resources tailored to local businesses, addressing common challenges and offering practical solutions. By focusing on local SEO strategies, they rank higher in local search results, making it easier for local businesses to find and choose their services.
Build local partnerships and collaborations:
Case Study: A marketing agency wants to establish itself as a trusted local resource for businesses in their city.
The agency actively seeks out local partnerships and collaborations to expand its reach and credibility. They establish relationships with complementary businesses such as web design agencies, graphic designers, and content creators. The agency offers cross-promotion opportunities, joint marketing campaigns, or bundled services to clients who choose to work with both businesses. This mutually beneficial collaboration helps both parties increase their visibility and attract new clients.
The agency also seeks opportunities to contribute to local publications, contribute to local business blogs, or participate in local events as a speaker or panelist. By establishing relationships and securing backlinks from reputable local sources, the agency enhances its local search authority and visibility.
Example: The marketing agency partners with a local web design agency to offer comprehensive digital marketing solutions to their clients. They refer clients to each other, promote each other's services through blog posts and social media shoutouts, and collaborate on hosting educational workshops or webinars on digital marketing topics. By working together, they become a go-to resource for businesses in their city, providing a one-stop-shop for their marketing and online presence needs.
Utilize local advertising channels:
Case Study: A retail store in a tourist-heavy area wants to target tourists and increase foot traffic to its store.
The retail store utilizes online advertising platforms such as Google Ads, Facebook Ads, or Instagram Ads to target potential customers within a specific geographic area. They create ad campaigns that focus on local keywords, interests, or demographics relevant to their target audience. For example, they may target tourists visiting the area, people interested in shopping or fashion, or locals within a certain radius. The retail store creates compelling ad copy and visuals that highlight their unique offerings, discounts, or special promotions. They continuously monitor the ad campaigns, optimizing them based on performance data such as click-through rates, conversions, and return on ad spend.
Additionally, the retail store explores local print advertising options to reach its target audience. They identify popular local newspapers, magazines, or tourism guides that are widely read by tourists or locals. The store creates visually appealing print ads that include attractive images, compelling headlines, and a clear call-to-action. They strategically place the ads in sections of the publications that align with their target audience's interests, such as the shopping or tourism sections. The retail store may also consider partnering with local attractions or hotels to distribute flyers or promotional materials to their guests.
Furthermore, the store actively participates in local events, such as festivals, trade shows, or community gatherings, by setting up booths or pop-up shops. They create eye-catching displays, offer exclusive event discounts, and engage with attendees to generate buzz and drive foot traffic to their store.
Example: The retail store creates a Google Ads campaign targeted at tourists visiting the area. They use keywords such as "shopping in [city name]," "souvenir stores," or "local fashion boutiques." The ad copy emphasizes the store's unique offerings, such as locally-made products, limited edition items, or discounts for tourists. They also create visually appealing display ads that feature images of popular tourist attractions in the area, conveying a sense of local flavor and appeal. The retail store continuously monitors the campaign's performance, making adjustments to the targeting, keywords, or ad creatives to maximize its impact.
Host educational workshops or seminars:
Case Study: An eco-friendly cleaning service wants to educate the local community about sustainable cleaning practices and attract environmentally conscious customers.
The cleaning service hosts educational workshops or seminars on eco-friendly cleaning practices. They partner with local community centers, libraries, or schools to host these events. The service invites local residents, businesses, or community groups to attend the workshops, providing valuable information on eco-friendly cleaning practices, the benefits of non-toxic cleaning products, or ways to reduce environmental impact at home or in the workplace. The cleaning service may collaborate with local experts, environmental organizations, or guest speakers to enhance the credibility and expertise of the workshops. By sharing knowledge and empowering the local community to make environmentally conscious choices, the service establishes itself as a go-to resource for green cleaning solutions.
Example: The cleaning service collaborates with a local environmental organization and a renowned sustainability expert to host a workshop titled "Creating a Green and Clean Home: Tips for Eco-friendly Cleaning." They secure a venue in a central location and promote the workshop through local event calendars, social media platforms, and email newsletters. During the workshop, the cleaning service provides attendees with practical tips, DIY recipes, and information about their eco-friendly cleaning products and services. They also offer special discounts or giveaways to workshop participants, encouraging them to try their services. By hosting educational workshops, the cleaning service establishes itself as a trusted authority on eco-friendly cleaning, attracting environmentally conscious customers who value sustainable practices.
Offer loyalty programs or referral incentives:
Case Study: A neighborhood salon wants to increase customer retention and attract new clients through word-of-mouth referrals.
Loyalty program:
The salon introduces a loyalty program that rewards customers for their repeat business. They create a simple and transparent loyalty system where customers earn points or rewards for each visit or purchase. The salon may offer discounts, free services, or exclusive perks for loyal customers. They ensure that the loyalty program is easy to understand and track, either through a physical loyalty card or a digital system integrated with their booking software. The salon actively promotes the loyalty program to their existing customers through in-store signage, email newsletters, or social media posts. They also train their staff to inform customers about the program and its benefits during appointments. By offering a loyalty program, the salon incentivizes repeat business, strengthens customer relationships, and encourages positive word-of-mouth referrals.
Example: The salon implements a digital loyalty program that allows customers to earn points for each visit and redeem them for rewards such as discounts on services, free add-ons, or priority booking. They promote the loyalty program by displaying signage throughout the salon, sharing program details on their website and social media platforms, and including information about the program in their email newsletters. The salon also trains its staff to inform customers about the program, highlighting the benefits and rewards they can earn. As a result, they see an increase in customer retention and referrals, as satisfied customers are motivated to continue their patronage and recommend the salon to their friends and family.
Referral incentives
The salon introduces a referral program to encourage existing customers to refer their friends, family, or colleagues. They offer incentives such as discounted services, freebies, or gift cards to customers who successfully refer new clients to the salon. The salon provides referral cards or unique referral codes that existing customers can share with their contacts. They also track and reward successful referrals, ensuring that both the referrer and the new client receive the promised incentives. The salon actively promotes the referral program through in-salon signage, social media posts, and personalized outreach to loyal customers. By leveraging the power of word-of-mouth marketing, the salon attracts new clients who are more likely to trust and try their services based on a friend's recommendation.
Example: The salon designs referral cards that existing customers can hand out to their friends and family. The cards include a special offer for both the referrer and the new client, such as a 20% discount on their next appointment or a free add-on service. The salon encourages customers to share these referral cards with their contacts and rewards successful referrals with the promised incentives. They also actively promote the referral program on their social media platforms, encouraging customers to tag their friends and share their positive experiences. As a result, the salon sees an increase in new clients through referrals and strengthens its customer base.
Participate in local charity events or sponsorships:
Case Study: A local bakery wants to give back to the community and increase brand visibility by participating in charity events.
The bakery actively seeks out local charity events, fundraisers, or community initiatives that align with their values. They donate their baked goods or offer catering services for these events, showcasing their culinary skills and commitment to the community. The bakery may also consider sponsoring local sports teams, school events, or cultural festivals, which helps promote their brand and build goodwill.
During these events or sponsorships, the bakery ensures that their branding is prominently displayed. They set up booths or tables where they can interact with attendees, provide samples of their products, and distribute promotional materials such as brochures or discount coupons. The bakery takes the opportunity to engage with the community, share their story, and communicate their commitment to quality, locally sourced ingredients, or sustainable practices.
Example: The bakery partners with a local charity that supports underprivileged children in the community. They donate a portion of their sales for a designated period to the charity and actively promote this initiative through their website, social media platforms, and in-store signage. The bakery also sponsors the charity's annual fundraising gala, where they provide a dessert table featuring a variety of their specialty cakes, pastries, and cookies. The bakery's branding is prominently displayed at the event, and they engage with attendees, sharing information about their products and their commitment to supporting the local community. By participating in charity events and sponsorships, the bakery not only gives back but also increases its brand visibility and attracts socially conscious customers who appreciate their community involvement.
Focus on exceptional product quality and unique offerings:
Case Study: A local coffee shop wants to differentiate itself from the competition and attract coffee enthusiasts in the area.
The coffee shop prioritizes exceptional product quality by sourcing high-quality, specialty coffee beans and investing in professional-grade coffee equipment. They train their baristas to consistently deliver excellent coffee, focusing on proper brewing techniques, latte art skills, and flavor profiles. The coffee shop may also consider offering a rotating selection of single-origin or seasonal coffees to entice customers with unique and limited-time offerings.
Additionally, the coffee shop creates a distinct atmosphere and experience. They pay attention to interior design, ensuring that the space is welcoming, comfortable, and aesthetically pleasing. They may incorporate local artwork or design elements that reflect the character of the neighborhood. The coffee shop also explores unique menu offerings, such as signature drinks, house-made syrups or pastries, or collaborations with local bakeries or artisans. By offering something unique and memorable, the coffee shop stands out among competitors and attracts coffee enthusiasts who are seeking a differentiated experience.
Example: The coffee shop partners with a local roastery that specializes in ethically sourced, single-origin coffee beans. They prominently display information about the origin and flavor profile of each coffee they offer, educating customers about the unique characteristics of each brew. The shop invests in high-quality espresso machines, grinders, and brewing equipment to ensure consistency and excellence in every cup. They also collaborate with a local pastry chef to create exclusive coffee and pastry pairings, elevating the overall experience for customers. The shop's inviting atmosphere, skilled baristas, and unique offerings create a loyal customer base of coffee connoisseurs who appreciate the shop's commitment to quality and craftsmanship.
By implementing these strategies and customizing them to suit their specific business and local market, organizations can effectively increase their visibility, attract target customers, and build a strong presence within their community.