Being a professional digital marketer and a successful editor, I am very much aware of what a human editor has to offer. I am someone who is a regular user of Grammarly for over the years. Now, I know I have a pretty decent grasp on English rules and grammar but you never know how small typos and errors can affect the writing.
In my entire journey till now, I have seen many of my fellow bloggers, content writers, and editors are confused regarding the use of Grammarly or not. And there are a certain number of people who swear by the app. While this Grammarly review focuses on the value of the tool in improving your written communication, if you're a writer or editor based in the Peach State, considering your business structure is equally important. If you're freelancing or running a small editorial business, learning about setting up an llc in georgia could provide substantial benefits including potential tax advantages and liability protection. So today I thought of why not I give a detailed Grammarly Review for you all?
What is Grammarly? Is it worth trying? Can it replace a human editor? There are so many questions that I have received from my viewers. Don't worry! I will answer all of them in this article today.
However, this grammarly review will be a big one as I wanted it to be a comprehensive one. So only if you have time then go grab some coffee or tea and start reading it.
Oh, Yes! You can obviously jump into any specific section that interests you the most if you have less time. So without further ado, let's jump into the review.
Grammarly Review 2021: Is Grammarly Worth It?
What is Grammarly?
Now as far as Grammarly is concerned, let me tell you it is an incredible editing software to improvise and edit all your mistakes and typos. But, there are certain limitations and I feel it is not for everyone. However, if you are like me and sometimes feel very much frustrated using a grammar book, then you are simply going to love this little tool.
In simpler words, Grammarly is a grammar and spelling checker and is like having a little robotic editor always on your shoulder. It helps to detect punctuation, style mistakes, spelling, grammar, as you write on any blogging site, word doc, social media platforms, etc. And if you ask me, it works like a "Grammar Assistant" for me. Now think, don't you need one such assistant? Sounds nice, right?
In this Grammarly review, I am going to explain in detail everything and every aspect of this amazing app. So read below to know more.
What Grammarly Does?
Now the question that may come to your mind is what exactly Grammarly does. I know, I can read your mind… kidding! This is obviously one of the primary questions that everyone has as nobody exactly have a clear idea on this. So let me help you by giving a detailed explanation:
As stated previously, Grammarly is a writing tool that helps us to check any type of errors.
a) Spell Check
If you want to keep your spelling mistake at bay or if you have spelling mistake habit, then Grammarly is just the perfect tool for you.
b) Writing Style
I feel if you are starting with your content writing journey, it is one of the best apps to look out for. It will improve your writing style by providing you with sentence length, readability score, etc. Even, if you are an experienced writer or a professional editor, I would highly suggest you use Grammarly as it helps you to adapt genre-specific writing style and that too for a specific audience.
c) Grammar And Punctuation
With the help of Grammarly, you can easily detect the grammar as well as punctuation mistakes starting from basic to advanced. The best part about this Grammarly according to my views is the real-time guidelines and suggestions that it provides on how one can correct the mistakes.
d) Plagiarism
This app works great to detect any plagiarized content. What is does is basically comparing your content with billions of web pages and articles available across the web.
So still confused about how Grammarly works? Let's find that out as well in the below section.
How Grammarly Works?
Now, this is a very important question regarding Grammarly. Signing up or having an extension won't help you understand how it works. Honestly, in my starting days, I was not aware of how it actually works and due to that landed up with several difficulties. So, I know what issues you can face. Thus, here I have made a detailed step by step explanation of how Grammarly works. Following this, I am pretty sure you can understand almost 70% of this amazing editing tool.
a) Grammarly's Website
So the very first thing that I landed up when I first heard the name "Grammarly" was their official page. What I did was to sign in there with my Gmail account. You can make a fresh sign up. Once, you are done with the signup, you will have your own writing dashboard in front of you.
Now, if you want to start a new document, then click on the "New" button or the "Upload" button. That means you can either write in the given space, copy and paste content or upload a file of your choice.
You will see a page where it will ask you to set goals for your writing. It means you can adjust Grammarly's feedback as per your genre or specific writing style such as formal, informal, and so on.
You can see this if you are uploading the document for the first time or you are uploading new content.
Now after setting the goal, you can start writing or upload a file. And once, it detects the document, you will see Grammarly will start checking your content line by line. And in case of any errors or typos, it will show you and allow you to make changes as per the suggestions.
In order to make the changes, you need to click on the highlighted text right beside in green box. And you are done with the correction. Isn't it easy?
b) Internet Browser Extension Or Extension App
Another great way of using the Grammarly tool is by an internet browser extension. In case, you are using it for the first time, I would suggest you check the browser extension settings.
Now, once the extension is there attached to your internet browser, you can start writing freely anywhere. Once you starting writing content, you will see the Grammarly logo will spin and you can see red or green dot letting you know in case there are some errors. You simply need to hover over the dot and you will be able to edit it in Grammarly.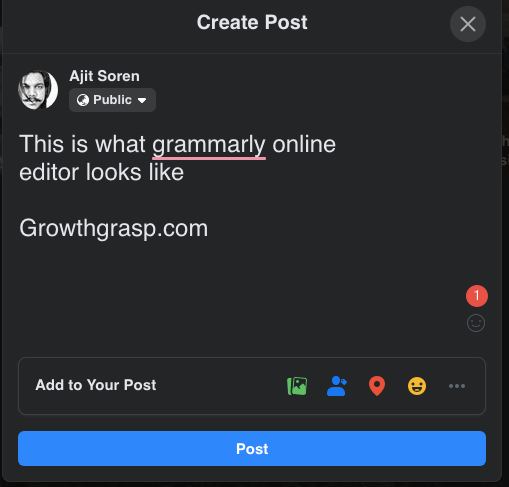 If you click on the red underlined word, a pop-up window will open showing you a mini editing page, very much similar to the Grammarly site.
If you want to make changes, simply click on the suggested change and Tadaaa… You are done!
8
From there you will see an option to return back to the site where you were working just by clicking the left top button in the corner.
9
However, I always edit it directly on the site I work on rather than visiting the Grammarly editor. And to all my lovely readers, I would suggest the same as that will be less time-consuming. Thanks, me later!
c) Grammarly In Google Docs
I always use the other two methods mentioned above, but recently I found an interesting way to use Grammarly and I'm super excited. Grammarly works in Google Docs. Yes! Exciting isn't it?
This was a huge problem that I had with Grammarly earlier as I used to do most of my works on Google Docs. And I had to always check that the other ways. But now I don't need to do those extra works.
However, to make it work in Google Docs, ensure you have the Grammarly extension installed and turned on. And just like everywhere, it will show you errors while you write the article in red and suggestions in green. Just click on the green bar and you can change the errors.
10
d) Grammarly For Microsoft Office
If you are having a PC at home, you can use Grammarly for Microsoft Office as well. However, I have Mac and unfortunately, it doesn't work there. So I have no experience personally on the same. But I have seen many of my fellow editors using it. And in case, you have used Grammarly for Microsoft Office, do let me know in the comment section below. I would love to know about your experience.
Now, let me take you through what exactly Grammarly tool offers you:
An accurate spell checker
Reading time estimations
Basic grammar checking for active and passive voice
Sentence structure analysis
A vocabulary tool with a readability score
One of the newest editions that Grammarly has made is to analyze the Flesch reading level ease of your content. It means you will get a fair idea of what level of education your viewers should have to read your content.
e) Plagiarism Detector
Another prospect of Grammarly as I have told earlier is that it can detect plagiarism. Yes! It comes with a plagiarism detector that will help you in writing clear content.
I have seen many of my fellow bloggers and editors find this feature helpful as it allows them to detect involuntarily copied content from their research sources.
Who Should Use Grammarly?
So this question is quite obvious. Okay. Let me be clear with you on this. Grammarly is an editing tool useful for both the native English speakers along with the ones who don't in the English language that often. To be very specific, I have made this below list including the people who can use Grammarly:
Content Writers, Marketers, and Copywriters
Editors
Bloggers
Academics
Authors
Business professionals looking to draft a perfect error-free email, report, social media post, etc.
Students
What I am trying to tell you is that anybody can use this editing tool to enhance their English writing skill. It won't obviously harm you, right?
I feel for writers both novice and experienced, this grammar editing tool works like a line of defense, even if they are native English speakers. You can use the Free version to have a soft check of your book, blog post, or articles. It will make your content easy to read and will increase the engagement chances.
There is a premium version as well I will discuss that in the latter half. But, understand that having a premium version will help the students who want to check a whole lot of batch. The best part I think is that you take a subscription, check the batch, and then cancel it if you need to.
However, I strongly oppose any kind of violations and alert you to check if you are violating any rules set by your college or school.
Grammarly Free Review
There are several products or online editing tools available in the market that comes with a free version that is really poor and highly limited. However, the Grammarly Free version is pretty good.
With this Free version, you will get all the basic features that I feel are pretty complete to work with as a beginner. You can lay down your writing foundation with comprehensive grammar, spelling, and punctuation checker. The Free version of Grammarly is much better than some paid editing tools.
Moreover, with this free version, you can your mistakes underlined in red. Thus, it becomes easier for you to check and correct them. However, since it a free version, you shouldn't expect it to catch advanced grammatical errors. It will highlight your spelling mistakes:
11
Punctuation mistakes:
12
Using the free version, you are allowed to choose your version of English depending on which area readers you want in your blog.
13
Also, you will be able to see how many more mistakes are there that you can correct only if you have the Premium version.
Grammarly Premium Review
Coming to the Grammarly editing tool, the Premium version is a must-try according to me. You get everything that you have in the free version and along with that, you will have other amazing features. With Grammarly Premium, you will get to check a lot more regarding punctuation, sentence structure, grammar, and context. Lookout at the below features that you will get subscribing to the Premium version. Oh Yes! All these are apart from the free version features.
Writing inconsistencies
Unclear structure
Overuse of words
Wordiness
Inappropriate tone
Insensitive language
As per Grammarly, its premium version goes beyond grammar to make sure everything that you write is engaging and clear. However, I believe no grammar checker tool can turn sloppy and rushed writing into a masterpiece. But with Grammar Premium you can definitely enhance your writing style and your content structure. At least, based on my experience I can totally say that Grammarly premium version has made my writing better over time.
So what are you waiting for? Go and subscribe to the Grammarly Premium Version.
Grammarly Business Review
Grammarly business can allow more than 10K teams to improve their communication at work. It will offer you with detailed, informed, real-time suggestions so that you can do correct word choice, make sentences clearer, refine the article tone, and fix your grammatical errors. The most interesting part about this version is that you get a centralized admin panel and your team leads can easily manage the subscription. They can even track the performance of your team.
Dictionary / Thesaurus
Grammar Check
Plagiarism Detection
Punctuation Check
Reporting & Statistics
Spell Check
Text Editor
Contextual Speller
These are some of the features that you are going to along with the Premium version's features. I feel if you are having a big team and you are looking for an online grammar tool, then it can be an ideal choice to invest.
Grammarly Free Vs Premium Vs Business
Now that you are aware of all the three different versions of Grammarly. Let me take you to a little bit of comparison as per views.
See, having the Grammarly free version will let you have almost all the features of Grammarly premium. However, you will miss out on some of the important features such as advanced grammar checkers, some vocabulary enhancement suggestions, and plagiarism detector.
In simple words, Grammarly Free version is I feel ideal for writers and bloggers with less budget or the ones who are just starting with writing.
Now, if you wonder what you get with Grammarly Premium, then let me tell you it gives you all the detailed suggestions and information regarding each of your mistakes in the pop-up box. What I find interesting about this Premium version is that it allows you to get writing insights and help you to set writing goals. It further finds and fixes other mistakes that the free version may not show you.
As stated below, you can check the pricing and opt for a premium monthly, annual, or quarterly subscription. You can further claim discounts for each type of subscription.
As of now, I pay for the monthly premium subscription and I feel it comes with a good balance of affordability and managing expenses. However, it is totally up to you what suits me may not suit you. It is always better to check your requirements before you head out to buy the subscription.
Recently, Grammarly has come up with a new Business Version. It has all the features of a Premium version but has the business feel to it. Here are the extra features that you are going to get having the Business version:
Admin and user management controls for privacy and security of your team's work
Monitoring tools for checking engagement trends
Centralized billing
Priority 24/7 email support
Grammarly Business Version will cost you $15 per month for each member and I feel it can be a good choice if you have a team and looking for a spell and grammar checker tool.
Grammarly Pros & Cons
Like any other thing in the world, Grammarly comes along with a certain set of pros and cons.
So without further wasting time, let us dive into the Grammarly review and discuss in detail the Pros and Cons of this editing tool.
Grammarly Pros:
There are several factors depending on which Grammarly has shown huge growth. Let me take you through all those pros:
a) Real-Time Grammar Correcting
Well! This editing tool has brought immense change in the writing style and makes your editing work faster than before. Write everything out and simply click on the "check spelling and grammar" button, you will immediately see what mistakes you have made. Isn't that a little risky? Why not correct while you write?
Now, you might say what is so great about it, you can do it once you are done. I want to ask you have you ever forgotten to hit that button once you are done with your drafting? Because I have.
And I correct the errors right away when I see and that gives me a clearer final result. Moreover, it is all automatic and you don't need to click onto any button to do the job.
b) Easy To Understand Explanations
Apart from you telling you if something went wrong, Grammarly takes a step ahead telling you where you have done the mistake. Yes! It explains the mistakes so that you can learn and improve. Thus using Grammarly you will not only be able to write polished articles, but it will help you in learning how to become a better writer.
Grammarly comes with two options when it comes to explanations. Have a quick look:
14
Another option allows you to click the "See More In Grammarly" to view the explanation in detail.
15
In all means, Grammarly strengthens your writing skills.
c) Highly Accurate
This is one such grammar software that doesn't make a whole lot of mistakes at least that's what my experience with it says. At points, it may misunderstand what you are trying to say or put a comma where you don't really want to, otherwise, the accuracy rate is very high.
However, always try to understand where you are making the mistake and why is it asking you to correct it.
d) Customization
Using the free version? You can still customize Grammarly as per your needs although free version has some limitations. But I feel for the beginners you can let it go.
It allows you to select the language preferred by you and you can turn off certain websites or add new words that you often use. Look at the image below where I am showing you how you can add a word to the dictionary.
16
e) User-friendly And Simple
If you are not tech-savvy and you don't want anything hard to understand or use, then Grammarly is the right choice for you. All you need to do is to install the plugin or the browser extension and you are done. You can use Grammarly as per your own convenience.
Grammarly Cons:
Can all be perfect? No right! So there are some factors that can be improved within Grammarly. Let's see what are those:
a) Doesn't Work On Everything
Grammarly doesn't work on everything and that is my real problem with this editing too. It doesn't function properly on Google Docs and it is a real bummer for me as I use Google Docs for writing. They are currently beta testing and thus you might have to wait for some time to get this feature on Google Docs.
17
Just see the image above to understand what notification I received on my Grammarly extension while I writing content in Google Docs. However, it seems like Grammarly is building with time and expanding its services to several platforms. Let's wait and hope for the best.
b) Aggressive Advertising
This is a very disturbing yet funny con according to my point fo view. Grammarly really wants you to upgrade to their premium account no matter what. I know the Premium version is great but why do you need to advertise it all the time?
But thankfully, you can opt-out of their email list by unsubscribing and then virtually solves the problem on the other end. They will still advertise you through Grammarly extension from time to time though. But that is I feel still tolerable and not essentially a deal-breaker.
c) Limited Free Version
As I have stated above the Grammarly Free version is good for the new users and for those who don't have the budget to spend more now. But, I feel that the Free version can be a problem for experts as it comes with very limited features. This basically has only one function and that is to correct your spelling mistakes and grammar errors.
However, it might seem major con to a certain number of people, but there are a good number of people who are fine with it. Personally, I like to prefer investing a little more and opt for the premium features.
d) Sometimes you may need to reload or refresh your page to allow Grammarly to check actively your content.
e) The tool is not available in every language so far.
Grammarly Pricing
One of the most possible questions that I have come across regarding Grammarly is whether it is free or not.
Is Grammarly Free?
This question is the third-highest rated question I got while writing this Grammarly review.
Well! To be very honest with you all, I have used the Grammarly free version for several years in the starting. Yes! It can be free and that is the best thing that I really admire about this editing tool. You can use the free version of Grammarly and guess what it has no restrictions- use it as many times as you want without any trial period and without any word limit. Sound's great, right?
But there are some features that you may not avail of if you don't upgrade to Grammarly Premium. Here I am mentioning all the current rates for the Grammarly Premium version. Please read it carefully before you make an impulsive decision.
$11.66 a month when you pay annually (so, $139.95 in total)
$29.95 a month when you pay monthly
$19.98 a month when you pay quarterly
You may find another Grammarly option known as the Grammarly Business version. It costs around $15 per month per user and billed annually. This can be a great purchase if you have a huge business work to do with a lot of people involved. It allows you to access everything in Grammarly Premium along with that you will get some extra features such as an admin panel, statistics for your team, etc.
Now that you are aware of the prices, you can check above to see which version is more suitable for you. I hope it will clear your idea on which Grammarly version you should opt for.
Why Everyone Should Use Grammarly?
If you are wondering why you should use Grammarly, then this section is just where you should stick to. Here are the three vital things that Grammarly gives and I have realized that over time:
Free grammar and spelling check both online and file bases documents.
It allows you to switch between checking for British English and American English.
Grammarly works as an extra set of eyes on your document.
It allows you to detect plagiarism.
Improves overall writing style with proper punctuation.
What more do you need from an editing tool? Obviously, without good human eyes, you cannot simply have a quality review of your document. But, having an editing tool like Grammarly will help you to look into further detail. It will not harm you or your document, in fact, will do better for it. So I feel if you are an aspiring writer or a professional one, Grammarly is the tool that you must consider using.
I recommend everyone to use Grammarly and get a clean piece of well-structured content.
Is Grammarly Premium Worth It?
If you ask me and want my clear and honest opinion, then yes Grammarly Premium is totally worth it.
No, I am not saying that the free version of this editing tool is not good or not useful. But it is always better to have a set of eyes to look over your writing. Isn't it? This way you will be able to identify more spelling mistakes, grammatical errors, typos, and other mistakes than your free checker.
In case, you have just started writing or you are a writer in the budget, then I would recommend you to install and try the free version of Grammarly first. See how well you can understand the editing tool and then decide.
Still, I would say with the time you will realize that paid things are much better than the ones that come for free.
Having a Grammarly Premium account will help you in identifying more mistakes and grammar issues in the content. As per my own experience, it has helped me highly in creating clear and error-free documents. It has not only helped with that but with time has enhanced my writing skills.
I myself now pay for the Grammarly Premium as I appreciate having those extra features which are worth mentioning.
Being an editor, I highly believe that my blog should have no typos, grammatical errors, etc. To cut it short, If you want to make blogging or writing as your career, paying for Grammarly Premium is worth it.
Final Thought
I feel Grammarly is affordable and useful writing and editing tool that you must have in your toolbox. Experts and novice both can have huge benefits from this. It will protect you from making those embarrassing mistakes on blogs, work documents, emails, books, or any informative written piece. I have honestly seen the real power of Grammarly and I know how it has helped me save those embarrassing moments.
And honestly, if you want to achieve something in the field of content marketing and blogging, investing $139.95 a year for Grammarly Premium is worth the cost. Still, if you are having any sort of queries in mind, you can always comment it down. I am here to help you out! Till then Happy Writing!